As a mother, you work hard 24 hours a day, seven days a week to support your family emotionally. According to Census and Bureau of Labor 2009 statistics, over 5 million mothers are stay-at-home moms. If you are part of the 71 percent of working mothers, you also provide financial support. For an increasing number of mothers, obtaining a college degree is a way to better their financial situation.
Across the U.S., mothers are finding it difficult to attend college or restart an interrupted college career. This is especially true for single moms, who most often struggle to make ends meet and must work one, sometimes two jobs to support the family. The difficulty may be in finding the time, the money, or the confidence to enroll in college courses. And in today's current economic struggles, keeping a job becomes more important than a college degree.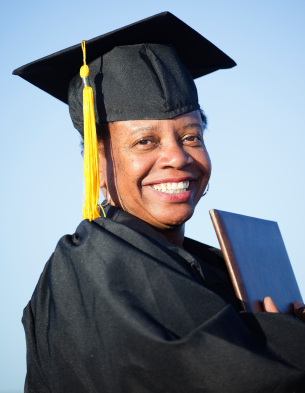 Yet studies have shown that a college degree improves your earning power. If a parent is able to afford a college degree, chances are it will financially benefit herself and her family. This leads to the problem of covering the costs of higher education. The College Board estimates that it costs a resident undergraduate student an average of $7,605 per year to attend a four-year public institution in the 2010-2011 school year. Obtaining a graduate degree would be considerably more. Depending on how much school you have to complete, the end total can be a bit daunting.
Going Back to School
Choosing to return to school once you have a family is a difficult decision. Working mothers will need to juggle time for classes and study on top of their work hours and time with their family. Moms who don't work may look at the family budget and think it is not financially possible to attend college. Where they live or work will also limit mothers to schools nearby. The nearest schools may be more expensive, or may not have the desired degree program. This forces moms to look at more expensive online degree programs. But now that you have made the momentous step to better yourself through a college degree, don't let the growing financial burden of an education stop you dead in your tracks.
What is sadly overlooked, especially in our current economy, is the availability of scholarships and grants available to prospective students. There are grants available to moms who are seeking any degree – from two-year professional degrees to graduate degrees, whether online or in a classroom. You need to enroll in a degree program before you can apply for this free money, which may seem like putting the cart before the horse, but your education is worth it.
While the money is out there, the reason this resource is often overlooked is because it takes time to locate and research many of these opportunities. There are three important places to search for available grants: the federal government, your state and local governments, and private businesses and non-profit organizations. Once you have found a grant that matches your needs, you then have to apply for it, and this requires patience and good marketing skills to obtain these grants.
Federal Grants
The U.S. government provides the largest portion of financial aid, although a significant percentage is in the form of loans. There are four grants that the federal government offers. While these grants are not specific to mothers wanting to go to college, they are the easiest to apply for. In order to take advantage of federal aid, you must complete the Free Application for Federal Student Aid, or FAFSA. The form is available at your college's admissions office or by filling in the application online.
Pell Grant – You apply for Pell grants through your FAFSA application. These federal grants are awarded to those students in most financial need. Single-mothers have a high chance of qualifying for this government grant, as well as single-income family households that are considered low-income. The amount you receive will depend on your financial need, the costs to attend your school, whether you are a full- or part-time student, and if you plan to attend school for a full academic year. The maximum award amount for the 2011-12 year is $5,550.
Federal Supplemental Educational Opportunity Grant (FSEOG) – This program is similar to the Pell grant in that it is awarded to undergraduate students with the greatest financial need. Recipients of Pell Grants who had the lowest expected family contributions are considered first to receive this grant. Again, single mothers and mothers in low-income households are strong contenders for this grant. The award is between $100 and $4,000 a year, depending on need, when you applied, other funding you receive, and your school's financial aid policies.
Academic Competitiveness Grant (ACG) – If you are a first-time college student, this grant is a good supplement to the Pell Grant. The ACG differs from the previous two grants in that it has stricter eligibility requirements. According to the federal government's financial aid website, a recipient must:
be a U.S. citizen or eligible non-citizen
be a Federal Pell Grant recipient
be enrolled at least half-time in a degree program
be a first or second-year undergraduate student or a student in a certificate program of at least one year in a degree program at a two-year or four-year degree-granting institution
have completed a rigorous secondary school program of study
not have been enrolled in an ACG-eligible program while still attending high school
have at least a cumulative 3.0 grade point average (GPA) by the end of the first year of the degree program.
Academic Competitiveness Grant
The Academic Competitiveness Grant offers $750 in the first year and $1,300 for in second year. However, when combined with the Pell Grant, the ACG cannot go over the total cost of attendance. Also, if there are more eligible students than money allotted for full payment to each student in the year, then the award amount for each student will be less.
National Smart Grant
The National Science and Mathematics Access to Retain Talent Grant – Also known as the National SMART Grant, this is basically a continuation of the ACG. Moms with a knack for numbers can take advantage of this grant to study for careers in healthcare, engineering, or technology. It is available to students who are in their third and fourth year of college. It holds the same eligibility requirements as the ACG but who are in their junior or senior year and majoring in science or math related fields, or in a critical foreign language program. This grant awards up to $4,000 and the same caveats as the ACG apply.
TEACH Grant
TEACH Grant – Moms may gravitate toward careers that allow them to work with children. This grant provides up to $4,000 per year to students who intend to teach in elementary or secondary schools. The conditions of this grant are that you complete a course of study that is considered a high-need field and that you agree to teach full-time in a school that serves low-income students.
When you fill out your FAFSA, have your financial aid councilor at your college assist you in applying for these additional grants.
State and Local Grants
As hard as it is to believe with many state and local governments experiencing large budget deficits, money is still set aside for grant funding. For example, Washington State's Opportunity Pathways Program offers scholarships and grants to students based on financial need and those studying in shortage areas such as math, science, and healthcare. The Georgia Student Finance Commission offers the HOPE program to provide scholarships and grants to Georgia students. Visit your state's government to find information on grants and scholarships. The U.S. Department of Education also has a resource listing by state that may help you.
Businesses and Non-Profit Organizations
If you want to find grants that are truly specific to your needs, that will require a little more research. There are websites that you can subscribe to that will do the searching for you, but with a bit of patience, you can find the same information for free. Here is a list of websites to help you get started:
Large businesses such as General Electric, Adobe, Macy's, Ford, and Target provide scholarship opportunities through a separate foundation or partnering with non-profits that support their mission. Look to large companies in your area to see if they provide funding opportunities to individuals for education. Most often these companies provide grants directly to your local college and you apply for them at the financial aid office.
Most non-profit charities and foundations provide grants to other non-profit entities rather than to individuals, but there are a few that offer grants and scholarships to students, like the Jeanette Rankin Foundation and National Medical Fellowships. Organizations that provide grants and scholarships specifically to mothers are the Patsy Takemoto Mink Education Foundation and the Women's Independence Scholarship Program. While not specific to mothers, the American Association of University Women (AAUW) offers a Career Development Grant that will help pay for dependent care.
There is another often neglected place to find information on available grants and scholarships. Your chosen school's financial aid office doesn't just handle the FAFSA. It also has information about any available financial aid opportunities for attending students. Depending on the school, the resource center may have computers to access databases to search for scholarships and grants, or binders of open financial aid opportunities that would also include work study and internships. It is an indispensable resource to find funding for your education, so don't overlook this source of available grants and scholarships.
Business grants are another avenue mothers may explore. Although not directly tied to education, some business grants allow funds to be used for education purposes in order to start or improve a business. Stay-at-Home moms can become Work-at-Home moms with the help of a business grant. Start with your Small Business Association branch office or visit their Office of Women's Business Ownership website.
Watch for Scams
Searching for financial aid online can lead to some questionable websites. It is easy to get overwhelmed by the amount of information you find. And while there is no doubt that you are a smart person, it is very possible that you could become one of the thousands of people each year who are scammed out of many millions of dollars.
Some search sites, such as FastWeb, ask for personal identification to help find the best scholarships and grants that match your goals. If you visit a site that requires such information, research it thoroughly before giving out any personal information. Any site that requests your social security number, bank information, or a credit card right from the start is most likely a scam. Be aware of sites that "guarantee" a scholarship, since the only guaranteed aid will come from loans. Just because a site looks legitimate does not always mean it is.
There are sites that require a fee to use their services, either to search or to help you apply for financial aid. But an important thing to remember is that you should never be charged to fill out a FAFSA. There are legal sites that offer search software for a fee, but it is far better to visit your college's Financial Aid office and use their resources instead. If you are unsure about a site, or you choose to pay for a search service, check it out first by contacting your local Better Business Bureau or the state attorney general's office.
Applying for Grants
Once you have found grants that fit your description, you need to apply for them. This is where salesmanship comes into play. Almost all grants require a short essay explaining why you think you are deserving of the grant. The base of the matter is this: what will an education do to better yourself, your family and your community?
Each grant source has different requirements and deadlines, so read the instructions carefully. Following directions will be an important decision factor when grantors review applications. Have a clear statement of purpose in your application. Know what it is you want to accomplish with your degree. Tailor your essay response to match the mission of the group that is offering the grant. Grantors want to know that their money is going to someone who will make an impact on society.
Completing and Submitting Your Grant Application
There are three things you need to keep in mind when completing a grant application. Read the rules and requirements carefully. Grant providers set these criteria for a reason, and it is a waste of your time and theirs if you apply for a grant you do not qualify for. Give yourself extra time to complete the application so that you can address any last minute problems that need to be addressed by the deadline. Lastly, have a second set of eyes look over your application to check for spelling, grammar, and clear statements; if the application reviewer cannot understand what you wrote, you won't get any consideration.
Once you have completed and submitted your application, all you have left to do is wait for the verdict. Keep in mind that you are competing with other savvy college students who have also done their homework. But motherhood has taught you to persevere, and with a little help you can shine through the crowd. You may not win the grant the first time, but that does not mean you can't apply the next time. Don't give up or get discouraged if you start to feel overwhelmed. Continue to work for that degree so that new opportunities will open up to improve your family's financial stability.