One of the main reasons that parents make saving for their children's education a top priority is to provide a secure future. With every year of post-secondary education or training, there is a greater likelihood of increased lifetime earnings.
Getting Started
Quite often, parents and grandparents begin saving for their children's education early, but fail to plan early for the education itself. An early start helps with planning high school courses so that pre-requisites for college majors and future training are in place before applying for admission.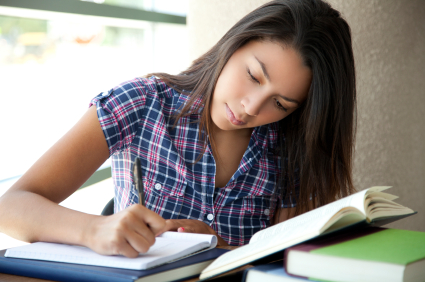 Students should at least choose a broad career interest by the end of middle school such as health care, technology, human and public services, business or education so that they can schedule appropriate courses in high school.
Setting a career goal early also provides the advantage of being able to focus the search for financial aid. Parents and students must determine if financial aid sources require completion of certain courses, participation in extra-curricular organizations or involvement in community service activities.
Fortunately, high school seniors who plan ahead will obtain assistance in paying for tuition, books, and even some living expenses. Unfortunately, finding the right scholarships, grants or loans takes time and diligence. High school guidance offices are usually the first to receive information regarding current financial aid resources. School and public librarians can also help with locating print and internet sources.
Ambitious students can find multiple sources for financial aid. Some are listed here as examples of the types of opportunities available. Ultimately, the possibilities for aid are abundant, and finding them can be a full-time endeavor.
Finding Accessible Sources
A post-secondary education is always less expensive at home-state institutions. Anyone interested in earning a degree in another state should weigh the differences in costs and consider establishing residency prior to the first semester. Each institution determines the length of residency needed to qualify as a state resident.
Not only do four-year universities provide aid, but technical and community colleges do so as well. In New Jersey, Gloucester County College has 78 scholarships available in 2011.
The first places to look for financial aid are the ones offered by special groups and organizations. For instance, students in Rhode Island can apply for a scholarship from Fundacao Faialense, Inc. if they are of Portuguese heritage.
Parents who save up for college will save even more by contributing the same amount to a pre-paid tuition plan.
Maryland provides a guarantee that college tuition will not increase for students who have prepaid their college tuition. A state Legislative Guarantee supports the program that allows parents to choose how many semesters they want to prepay. The plan is explained at Maryland Prepaid College Trust.
Besides the many campus-based, sports-related scholarships and internships, college bands or other extra-curricular programs may offer very attractive tuition assistance for participation. These programs expect a commitment of time or services in exchange for financial or housing assistance. Although participating in the band can be fairly time consuming, the programs work with the students' college schedules and classes. Band membership usually requires an audition to earn a financial award.
Federal Sources for Student Aid
In order to apply for federal aid, applicants must complete the Free Application for Federal Student Aid (FAFSA). Information on the form determines the amount of aid each student can access. The FAFSA is also used to apply for some state grants, such as the Taylor Opportunity Program for Students (TOPS) available to any student in Louisiana who meets requirements. Seniors should apply for this early in the second semester of high school to ensure that they have the application in place by the end of the senior year.
The federal government offers financial aid through grants and loans, including Pell Grants and Stafford Loans. Pell Grants do not have to be repaid; however, interest on some types of Stafford Loans must be paid during college years or added to the principal after graduation when repayment begins .
Congress has enacted the Teacher Education Assistance for College and Higher Education (TEACH) program that provides up to $4000 annually; however, participants must commit to teaching in schools that serve lower income families for at least four years.
Undergraduates can pursue the Academic Competitiveness Grant and add $750 in their first year and up to $1300 for the second year of study. Recipients must have a Pell Grant and maintain at least a 3.0 GPA to earn this award.
Pell Grant recipients can add to their aid package with the National Smart Grant. An additional $4000 is available for third and fourth year undergraduates pursuing specified majors. Recipients must achieve and maintain a GPA of 3.0 or above to take advantage of this grant.
Although not all schools participate in the Federal Supplemental Education Opportunity Grant (FSEOG), the Federal Work-Study or the Federal Perkins Loan programs, some schools do offer these resources. Again, applicants must have completed and filed the FAFSA in order to be considered for the assistance.
Participation in Americorps helps to pay off loans while working in community service through the sponsorship of theSegal AmeriCorps Education Award. The monetary award pays expenses while attending college.
Undergraduates can also earn tuition assistance while participating in an internship with the Central Intelligence Agency Undergraduate Training Program .
State and National Scholarship and Grant Opportunities
By far, the greatest number of scholarships is available through universities, colleges and school districts. Every state college has some type of easily attained awards for seniors with qualifying scores on ACT or SAT test
State Department of Education websites are good places to start looking for aid. Another source for comprehensive information on offerings in each state is Scholarships.com.
Montana Undergraduate Exchange offers a $60,000 Achievement Award for Freshman at Montana State University who have earned a 33 or higher on the ACT or a 2140 or higher on the SAT for Fall 2011. In order to foster a diverse student body, the university has some very generous awards for non-residents who have high scores.
Robert C. Byrd Scholarships are offered in each state. They are federally funded and average $1500 per student. Academically advanced seniors who earn specific scores on the ACT are eligible. The funds are available for no less than one year and no more than 4 years.
The William Randolph Hearst Foundation sponsors two winners from each state. Winning applicants get a $5000 scholarship and a trip to Washington D.C. The website provides information.
National Merit Scholarships Program, a privately funded program, awards between $500 and $2000 annually for up to 4 years. Winners must earn qualifying scores on the Preliminary SAT / National Merit Qualifying Test (PSAT/NMQT), which is given during the 10th grade. Current information is available on the National Merit Program's website.
Funding through Associations, Employers and Businesses
Parents should check with their employers as a source of financial aid because some companies have programs in place that may help their employees' children. One example of this type of opportunity is the United States Postal Service. It assists employees' children after three years of continuous employment. Some business organizations hope to attract graduates to their fields with scholarships. Many community groups adopt education as their focus and offer awards to high school graduates.
Sallie Mae is a private source for student loans. Interest rates on the loans are currently as low as 2.87% up to 10.21%, depending on financial need. The organization offers to lower the rate of interest for auto-debit accounts and for timely loan payments.
National fraternal organizations usually have scholarships for high school seniors. Check websites for groups like the American Legion, Woodmen of the World and Daughters of the American Revolution , as well as local civic and social clubs.
Aviation groups in Montana and Rhode Island offer annual awards to state residents. Montana's Department of Transportation's scholarship comes with opportunities for flight training. Rhode Island's Pilots Association is the provider for that state. Most states have associations and interest groups that sponsor deserving seniors. Further research will likely turn up more assistance from a wide variety of interest groups.
Resources for minorities and Students with Special Needs
Quite often, campus-based scholarships are obtainable for applicants with special needs. One such program is Barbara Bird & Lilyiane O'Neal Special Needs at Washington State University. Most likely, almost every large campus has similar offerings.
Seniors who have overcome adversity and show financial need can apply for Horatio Alger Scholarship , even if they will have a General Education Diploma (GED) instead of a traditional high school diploma.
With an emphasis on helping minority and low-income students, the Bill & Melinda Gates Foundation offers annual scholarships for the purpose of promoting public service and leadership.
Autistic students can find a listing of financial sources at Disabled World.
Visually impaired students should go to the American Foundation for the Blind to find information and to submit applications for 2011.
For Native Americans, the American Indian College Fund supports both tribal colleges as well as mainstream college financial aid.
Unexpected Scholarship Resources
Seniors should look into special-interest groups as resources. A quick internet search turns up some unusual sources that offer financial aid. Hunters may be surprised to find aid for those skilled in duck calling and sweet-lovers will be surprised to find something that supports their particular interest.
The National Candy Technologists Scholarship rewards pupils interested in future work with candy and sweets.
Very tall or very short people can apply for aid from The Tall Clubs International Students Scholarships or The Little People of America Scholarships
The Frederick and Mary F. Becley Scholarship awards $1000 to those who are left-handed.
Look for more unusual scholarships like those that reward candy connoisseurs or skilled surfers, bowlers, video-gamers or skateboarders.
Clearly, anyone can find some niche to fit into for potential student aid. The key is to start early, to research often, and to complete all the steps in resource acquisition for the future. While starting as a high school senior will garner some success, it is much more likely that a student will be successful in procuring aid by starting preparations at the beginning of high school or even earlier.
The most important part of the process occurs when the student works continuously to achieve his or her highest level in high school. Many aid providers look for applicants who show consistent achievement as well as civic and social responsibility. A successful student must demonstrate interest in the community along with academics. Involvement in civic organizations can be the deciding factor in winning a scholarship or grant.