Nursing is one of the fastest growing jobs today. With advances in technology, there is an ever increasing need for qualified nurses. According to the Bureau of Labor Statistics, nursing employment is expected to grow by as much as 22 percent by 2018.
The demand for nurses will be in a variety of settings including outpatient facilities, home health and nursing care facilities, and doctors offices.
Nursing is one of the top career choices for those people that want to make a difference in the lives of others. To become a registered nurse you might choose to attend a technical school, attend college for 2 years to earn your associates degree, or attend college for 4 years to earn your bachelors degree.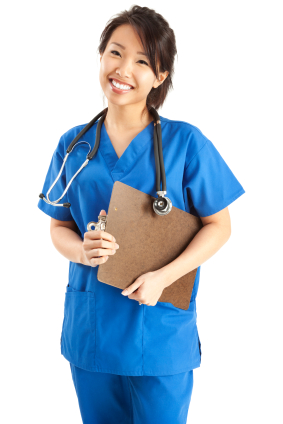 Once you have made the decision on the type of education you want to obtain, it is time to finance your education. Nursing is one field that offers several scholarship and grant opportunities.
Using College Resources
There are several ways to learn about the resources that are available in your area. Speak to a high school guidance counselor or, if you are already enrolled in college, speak with an advisor. They often have information available to assist their students in finding financial aid.
One of the more popular places to look for additional information is the FAFSA Federal Student Aid website. This website can be found at Fafsa.Gov and will provide guidance to the types of financial aid available to everyone. This site offers a free application for student aid that can be filled out and filed online. It is one website that can assist everyone, regardless of the profession they wish to attend college for. This is most often the starting point for all college students that need assistance to pay for their college education. It is necessary for the student to fill out a new FAFSA form each year that they are enrolled in college and in need of tuition assistance.
US Department of Health and Human Services
Scholarship programs geared specifically toward the medical profession are available. The U.S. Department of Health and Human Services offers a nursing scholarship program. This information can be accessed by visiting their website at Hrsa.Gov to learn more and to apply. Applications are accepted annually in either March or April and those chosen to receive a scholarship will be notified by the end of July.
This program works to alleviate the shortage of RN's by helping student's complete training to become an RN. In exchange, once the student has graduated, he must serve 2 years working at a health care facility that is experiencing a nursing shortage.
In exchange for their service, those awarded a scholarship will enjoy having any tuition, fees, books, clinical supplies and so on paid for. They will also receive a monthly stipend, which varies from one year to the next.
To be eligible the student must be a US citizen, enrolled or have been accepted into a professional registered nursing program, and not be delinquent on any debts with the Federal government. Those applicants that show the greatest financial need are typically given preference.
AfterCollege /AACN Scholarship
This scholarship provides scholarship awards to 8 candidates each year to help pay for them to further their nursing education. Those students that are pursuing a variety of degrees are eligible to apply. To qualify the student must be enrolled in a nursing program that is an AACN participant and must have a minimum GPA of 3.25.
Each application period will award this scholarship to 2 applicants. There are 4 deadlines each year. To access the application and for further information, visit their website at: AfterCollege.Com
Emergency Nurses Association Scholarship
The Emergency Nurses Association, also known as ENA has awarded over $1 million in scholarship funds to students since 1991. In 2011 they will celebrate their 20th anniversary. The ENA Foundation offers academic scholarships to licensed nurses that are active members of the ENA that are currently enrolled in an accredited nursing program and carry a GPA of 3.0.
Multiple scholarships are available, ranging from $2,500 to $5,000. Scholarships are available in the following 4 categories: non-RN, under graduate, master, and doctoral. Further information regarding eligibility requirements can be found on the ENA website at Ena.Org
Single Mother Grants
If you are a single mother that has gone back to school for nursing, additional scholarship options may be available for you to help finance your education. There are grants and scholarships available for new students, single mothers, nursing students, and those that are geared specifically toward women.
One of the nursing scholarship programs that are geared toward single mothers is the Ford Opportunity Program. For students that are attending Oregon College more information on this scholarship can be found online.
Grants for Men in Nursing
Although they are typically underrepresented as nurses, over 5% of those enrolled in nursing schools are men. As the times change, this number continues to increase so more organizations have begun offering financial support to men that are interested in nursing careers. There are grants and scholarship opportunities for men available now and more opportunities are added each year.
One such example is The American Assembly for Men in Nursing Foundation, or AAMN. Johnson & Johnson have teamed up with the AAMN foundation to offer a scholarship worth $1000 to male students that are pursuing a nursing education. Since the program began in 2004, more than 50 nursing students have received the $1000 scholarship. More information can be found on their website at: AAMN.org .
Minority Nursing Scholarships and Grants
Those people that are considered minorities may also find additional scholarship opportunities that they will qualify for. Although many of them are not of high dollar value, there are several scholarships available for a minority that is seeking assistance for a nursing education.
Arizona State University is a sponsor of the American Indian Students United for Nursing. Funded by the Indian Health Services, this program provides nursing education scholarship funds to Native Americans who might not otherwise be able to pay for the classes needed to join the nursing profession.
Oncology Nursing
If the student is interested in Oncology Nursing, the Oncology Nursing Society or ONS Foundation has an amount of $500,000 that is dedicated to their many scholarship opportunities each year. One of the opportunities awards $2000 to an Oncology Nursing student. Additional information can be found by visiting their website at www.ons.org.
Philippine Nurses of America
The Philippine Nurses Association of America is an organization that has chapters nationwide. They work to provide scholarships to Filipino nursing students, both men and women. There are some requirements in order to qualify. These requirements include enrollment in an accredited nursing program. Scholarships are awarded based on the student's financial needs and their grades. For more information you can visit their website at mypnaa.org.
Indian Health Service
The Indian Health Service or IHS realizes the need for dedicated health professionals. Alaskan Natives or American Indians are eligible to receive an IHS scholarship. The student that is chosen for this award can expect to receive $1160 each month for a period of 10 months. Students that are enrolled in a full time program will receive this payout for 2 years, part time students will receive funding for as many as 4 years. For more information or to apply, visit their website at IHS.gov.
Doing adequate research and finding nursing grants can play a vital role in paying tuition for many people. It is important to start applying early because often there are limits to the number of applicants that a single grant will be awarded to so getting your application in early is beneficial.
Spend some time each week searching for grants. Nurses are in high demand right now which encourages universities and the government to make tuition grants and other resources available.
Educating yourself about the different scholarships and grants that are available is also a vital part in receiving them. Learn about where they have come from and why they are being awarded. There are many sites, such as collegescholarships.org that frequently update with new information. This site offers additional information regarding scholarships for disadvantaged nursing students, state-funded grants, grants for minority nursing students, and more.
Some nursing students already know what area they want to specialize in after graduation. For these students, professional grants may be a primary focus. To ensure that all available grants have been discovered, contact the association that relates the specialty that you are the most interested in. Some examples include:
American Academy of Nurse Practitioners who offer research grants to nurse practitioners
American Association of Critical Care Nurses awards scholarships in the amount of $1500 to undergrad and grad students specializing in critical care.
American Association of Nurse Anesthetists offer 3 grants annually based on research to nurse anesthetists.
Gerontological Society of America offers grants and scholarships to graduate nurses that are studying to work in areas with the aging population.
State Funded Grants
The latest report from the American Nurses Association has stated that 38 states have established state-funded programs specifically for nursing education. Some examples of these state-funded programs include Florida and North Carolina.
State schools in Florida are considered to be one of the top nursing education programs. 4 of the universities have been awarded HRSA grants for Advanced Education Nursing. Included are the University of South Fl., University of Miami, Florida Atlantic University, and the University of Florida-Gainesville.
In North Carolina, the State Education Assistance Authority awards between 300 and 400 scholarships. Recipients can receive up to $6000 as long as certain criteria have been met. Criteria including full-time enrollment in a state-accredited nursing program will help determine eligible candidates.
Federal grants are also available for nursing students. The U.S. Department of Health and Human services sponsors grants that are targeted specifically toward nursing students. These grants include scholarships for disadvantaged students along with loan repayment plans that are intended to ease the burden of repaying student loans that were applied to a nursing education.
Scholarship for the Disadvantaged
This program is federally funded to assist financially disadvantaged nursing students. To see if they qualify, students must apply through the financial aid office at the college that they are attending. This scholarship may be awarded to students enrolled in one of several programs in the health science field.
Nursing Scholarship
The nursing scholarship program provides over 200 awards to qualifying nurses annually. Instead of repaying the amount that was awarded, recipients must agree that they will work for a minimum of 2 years following graduation at a health care institution that is in desperate need of nurses.
Loan Repayment Plans
Federally funded and government funded repayment programs are available for financially disadvantaged nurses that meet certain criteria and who are in participating programs. These programs typically require that, once they have graduated, registered nurses work in a health care institution that is in high need of qualified nurses. In exchange, those enrolled in these programs will have a portion of their student loan debt repaid for them.
There are several grant and scholarship opportunities for those that wish to become nurses, from every walk of life. When looking for the opportunities that you might qualify for, working with the financial aid office in the college of your choice is one way to find information. New opportunities are being added all the time in an ongoing effort to encourage more participation into the nursing field.