Attending college can help you get a better job, or even a promotion with your current company. Your earnings can increase, along with your self-esteem and confidence. The best way out of a dead end job that makes you miserable is to get an education. Unfortunately, the high cost of education can make this impossible for many women. There are other expenses that must be paid, and oftentimes there is nothing left for tuition, books, and other fees. However, there are many scholarships and grants available to help women get the education they deserve and need.
Finding Grants for You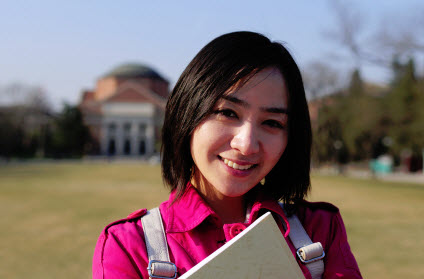 As you begin researching for grants, you will find that many of them are for anywhere from a few hundred to a few thousand dollars. This can seem like a single starfish tossed back into the ocean when you look at the entire cost of college. However, every grant that you are awarded will help reduce your overall cost. Rather than facing forty thousand in tuition and fees, you could be left paying only twenty thousand, or even only five thousand. The fact is that every little bit will help defray the cost; and if you can get several grants, then you may have your entire expense of schooling paid for. The main thing is that you keep searching for grants and keep applying.
Many grants and scholarships are geared for students who are already in school, and are junior or seniors. Keep applying every year for new grants every year. As you go through school, you will find new ones you did not know about, and you may qualify for some that you were not available to you before.
Many programs can also be applied for year after year. Receiving the award once does not mean you are prevented from applying again. Likewise, you may receive a grant that you were previously turned down for. Keep a list of all the grants you apply for one year, and apply again the following year.
Student Loans
There are few things to keep in mind if you are considering simply taking out student loans. At the time, student loans are easy. The paperwork is basic, there are minimal credit rating requirements, and you can quickly find your school receiving checks so you can focus on studying. You must keep in mind that those loans will come due! They can not be written off in bankruptcy. If you every have to file bankruptcy, the monthly payments will not be taken into account, creating a very tricky situation. The interest rates are preset, and getting them lowered can be challenging. Taking the time to search for grants and apply for every grant you qualify for will help you avoid this situation completely.
Local Community Organizations
The Elks, Rotary Club, Eagles, and Veterans of Foreign Wars are all examples of local clubs that may offer scholarships to women. These scholarships are not typically advertised. They are usually awarded through members to someone they feel is worthy.
The best way to find out about them is to ask around. Talk to all of your friends and family members. Let them know that you are searching high and low for grant money to help pay for school. Talk to your teachers, co-workers, boss, and neighbors about any organizations they may know of that are offering scholarships.
You should also talk with local churches. There are many scholarships awarded through various religious groups. Again, they are not typically advertised, so ask around. You never know what unexpected source is offering a scholarship that is unadvertised and readily available for someone like you. It may be a small amount, such as five hundred or a thousand dollars. But that is free money that will reduce the amount you have to pay.
Employers Offer Grants, Scholarships, and Reimbursement
Many companies care about the employees and their families. They want the employees to be taken care of, and they enjoy seeing them improve themselves by getting an education. They also recognize the value of having employees who are better educated and informed. Many companies offer scholarships for their employees, and even for their children. The best way to find out is to simply check with your employer to see what they offer. If you are a dependent child, ask your parents to check with their employer to see if they are offering any scholarships.
Some companies offer tuition reimbursement for employees who take classes that are pertinent to the industry. These programs often require that the class be taken and paid for by the employee, and if a grade of a B or A is earned, the company will reimburse the tuition expenses. This is an excellent program to take advantage of. Talk to your human resources department to learn if your company offers such a program, and what the requirements are for it.
Research Your State
States all over the country have realized that the groups found on college campuses are not necessarily accurate representations of the true demographics of that state. Minorities and women are often under represented in state colleges. Some states are trying to correct this by offering grants and scholarships to minority groups and women to correct this. Search state websites to see if there are grants and scholarships available for you.
Some fields are important to communities, and there are incentives to encourage people to enter them. Teaching and nursing, for example, are two areas where states are offering grants, hoping people will enter those fields as a result.
Learn About Your State's Specifics
Some states are currently offering incentive programs for aspiring teachers who agree to teach for two years in inner-city schools. They will pay for a certain amount of the tuition expenses, provided that commitment is fulfilled. An excellent side benefit of these programs is that they guarantee a position upon graduation. There are also some states that are facing a shortage of teachers. Students who attend one of their universities and agree to stay and teach in that state for a certain number of years can receive substantial grants.
Research these programs and see if they are offered in any states that you might like to move to. Nursing is another field where there are many incentive programs currently being offered.
Many grants are awarded to students entering specific fields. This is dictated largely by supply and demand. Fields with a steady flow of students do not need to offer incentives. Fields that are short on students and professional typically have more scholarships and grants available. Science and technical fields, in particular, have more grants available for students. If you are considering a degree in science, physical and occupational therapy, teaching, chemistry, nursing, technology, or engineering you will have a greater change of finding grant money.
Research Fellowships
Those people entering the field of science can take advantage of research fellowships. These programs will pay money towards tuition and other expenses, provided you agree to work for them during a semester or during a summer break while in school. In addition to paying for tuition, the programs will also offer a stipend to pay for your time spent working for them. The most valuable aspect of these programs, however, is the experience that is gained during the fellowship. It can be placed on your resume, and will impress potential employers, helping you find a position after graduation.
Military Programs
While active duty military can qualify for funds to go to school, there are also programs that are geared to helping the spouses pay for their education. The Survivors and Dependents Educational Assistance program awards grants to spouses of deceased veterans or MIA soldiers.
Talk with the Schools you are Considering
Schools want to see both men and women on their campus. Many schools offer programs to help adult women return to school and advance in their fields. These programs vary from one school to another. When choosing your college, enquire about these programs, it can help you make your decision. Ask what the requirements are and what programs are offered to help you get money for schooling. It is suggested that you make an appointment with your guidance counselor for this information because there can be a lot to sort through.
The schools can also help you find federal grants that are available for women. Submit your FAFSA to the University of your choice, and they will help you search for grants you may qualify for.
You are a woman preparing to go to school, but you don't have to limit yourself to grants for women. Apply for anything you qualify for. African American women and other minorities can also apply for grants based on their race. Grants are available through some religions, those can be pursued. Single mothers have access to special programs, and so do working women. Check into every program you qualify for, and don't limit your search to grants for women. The greatest award you receive may be one that was earmarked for a certain field, or single moms, or some other category that you fall into.
The Pell Grants
When applying for grant money, start with the most common and the most basic. The Pell Grant is available for low income students. They change annually, but currently cover up to $4,000 of expenses in a year. You must earn under $20,000 annually to qualify, but if you are in that category, be sure to send your papers in. While they are not only for women, they are an excellent resource that you should take advantage of.
Other Examples of Grants
The Daughters of the Revolutionary War, or DAR, is a national, non-profit society for women. Any woman who can show that she descends from American Revolution Patriots can be a member. However, membership is not required to apply for scholarships offered by this group.
Barry Goldwater Scholarship Grant
This grant is designed to help sophomores and juniors who are majoring in science or math. Your GPA must be above average, and those who anticipate continuing to a masters' degree will receive preference.
The Ford Foundation Pre-doctoral Fellowship for Minorities
This fellowship is open for graduation students who are entering science, math, or engineering fields and is open to women.
National Black Nurses Association
Roughly a dozen grants and scholarships are awarded through this program to undergraduates enrolled in four-year nursing programs. Black women may apply for one of these scholarships that pay between $500 and $1200 a year.
The National Physical Science Consortium Fellowship
Multiple fellowships are offered for students studying physical science. Women are minorities are awarded these fellowships as there is a desire to see more diversity within this field. Students must have a GPA of at least 3.0 and there is an expectation that they will be pursuing careers in astronomy, chemistry, science, geology, or math.
The National Science Foundation
Women are encouraged to enter the fields of science, math, computer science, or engineering. Graduate fellowships are awarded by the National Science Foundation in an attempt to further diversify these fields. Remember, the working experience gained through fellowships can be worth more than the tuition reimbursement itself.
Regent's Healthcare Scholarship for Medicine and Dentistry
Resident students of New York State can apply for help paying for medical or dental school. The grants are geared towards minorities and women. Enrollment in New York State programs is required, and there is a required agreement to work within certain New York State medical facilities for a certain period of time upon graduation. This assurance of a job upon graduation is a very appealing facet of this program.
American Association of Women
Minority women are the focus of this program, although all women may apply. Grants are awarded based on economic disadvantage, as well as working women and women with families.
Educational Foundation for Women in Accounting
Women pursuing degrees in accounting at any level may apply for these funds. Whether the goal is an associate's degree or a master's degree, all levels qualify. Grants are actually awarded based on both financial need and merit. As with so many other grants, the grades matter, so strive to keep them as high as possible.
American Society of Women Accountants
This group funds degrees at all levels, also, provided the student is working towards a degree in either accounting or finance. There are also small grants available to help cover industry certifications and travel expenses for training.
Wellesley College's Davis Program
This non-traditional degree program is designed for older women who are returning to school, and older women who are returning to the work force. Attendance at the college is required for these grants, but the college is one of the most respected women's colleges in the nation.
Business and Professional Women's Association
The focus of this group is disadvantaged and minority women who are struggling to better themselves, but face extreme challenges. They also work to help older women who wish to get their college degree, stay-at-home moms who are reentering the work force, and those who are trying to get a degree for career advancement.
Jeanette Rankin Foundation
These grants are specifically geared for women over the age of 35 who are pursuing technical or professional programs. Women in this group who are pursuing their associate's or bachelor's degrees and show dire economic need may apply.
Raise the Nation
These grants focus specifically on single mothers. The continuing education grant is awarded based on student's financial need. There is also a loan repayment program designed to help women get loans with favorable repayment terms. A proven record of community service and volunteer work are part of the requirements.
The Sunshine Lade Foundation
The Women's Independence Scholarship program offers educational grants for female victims of domestic violence. Getting an education can help them break the cycle, and this scholarship can help them get the education they need.
Women's Architectural Auxiliary Eleanor Allwork Scholarship Grants
The undergraduate students enrolled in New York College and majoring in architecture will each be awarded between $2500 and $7500 for tuition and other expenses.
When applying for grants, keep in mind that there are thousands of people applying for many of these grants. Grades are often taken into consideration, so make sure you keep yours as high as possible. Apply for every grant you can, and do not get discouraged if you are not awarded the first fifty. Grants cost nothing to apply for, and every dollar you are awarded will help you pay for school. Apply for every grant you qualify for, and you may be surprised at how much free money you are able to assemble for your education.