Not all college students are fresh out of high school. Likewise, not all grants are for those students going straight from high school into college. There are many adults returning to college to either finish their schooling or change careers, and there are many grants available specifically for adults going back to school.
Grants are monies given to students that do not need to be repaid upon completion of their studies. Some grants renew every year based on certain criteria, and some grants are simply one-time payments. Typically, grants are provided based on financial need, and some come with provisions that you follow a certain academic path.
While many adults returning to school hold full-time jobs, that does not exclude them from obtaining grant monies to assist them with their college tuition.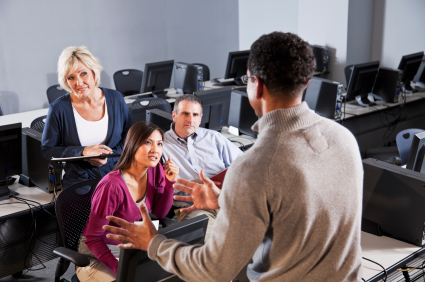 The biggest benefit of grants for adult college students is that many of these grants do not require the adult student to carry a full course load. This not only allows the adult student the ability to return to school affordably, but also to do it while balancing work with school, and many times with family.
Federal Educational Grants
Pell is perhaps the largest government grant option available to college students. These monies are granted by the federal government and do not have to be repaid. For the 2010-2011 school year, the value of the federal Pell grant was $5,550. In order to qualify annually for a Pell grant, you must be working toward a degree.
Though Pell can be used for either credit or non-credit courses, you must be making progress toward a degree in order to continue receiving it. For more information on the federal Pell grant program, visit the DOE's website.
Students requesting federal grant monies are required to complete the Free Application for Federal Student Aid (FAFSA) forms. The FAFSA forms must be completed annually to continue to receive government grants. Income information is necessary for completing FAFSA forms, so it is helpful to submit your tax forms early and have your most recent tax return documentation available when you complete the forms.
Though the deadline for FAFSA is June 30, submitting the forms in early February may provide you with a quicker response and perhaps more grant monies than those who wait until June 30 to submit their forms. Many non-governmental organizations that provide grants for college students also use the FAFSA forms to determine financial eligibility. FAFSA forms and information can be found here: Fafsa.Gov.
FSEOG
Another grant issued by the federal government is the Federal Supplemental Education Opportunity Grant (FSEOG). The student must have a great financial need in order to be approved for an FSEOG, and a FAFSA form must be completed every year in order to continue receiving the grant.
The government also has various minority grants available that are specific to gender, race, nationality, and other protected classes. There are also grants based on the career field, such as education, that are offered to students in exchange for an agreed-upon amount of time in certain localities that have a high need for the type of services the degree field will provide. To find other government grants, visit Students.Gov
State School Grants
There are many states that still support universities and colleges financially, and some states have separate grants for students who choose to continue their education at a state college. Other grants provided on a state level are specific to a career field or to a location within the state.
For instance, some states are in dire need of teachers, so they offer grants and scholarships for individuals majoring in education. The state may also provide further grants if the student agrees to teach in an inner-city setting for a certain period of time. A few states have offered loan forgiveness for teachers who remain in an inner-city public school setting for 5 years or more.
College Grant Providers
Colleges themselves often have grant monies available for students. Some colleges have separate programs for adult students, and corresponding grant programs to assist the students with tuition costs. Whether the college has a separate program for adults or not, the financial aid officers at the college should be able to direct adult students to specific grant and scholarship programs that can assist them.
Employer Grants
Many companies have grant programs or tuition reimbursement programs for their employees who wish to continue their education. However, many times these programs are not widely publicized throughout the company.
Generally, the Human Resources Department of the company will have the information needed for an adult seeking assistance with school through their employer. Employer grant programs typically have an open-application process for not only employees but also the children of employees.
Employer Tuition Reimbursement Programs
Tuition reimbursement programs typically require the employee to pay the entire tuition bill, and then the student is reimbursed a percentage of those monies based on their grades. Reimbursement can be 50% to 80% of the tuition costs, depending on the company's program.
Many programs have a sliding scale of how much is reimbursed per class grade. For instance, a student may achieve an A in one course and have the maximum 80% of the tuition for that course reimbursed, but only receive 70% of the tuition for another course where the student earned a B. Some programs reimburse the employee a percentage of the entire semester's tuition based on their grade point average.
While this is not a 100% tuition reimbursement, it is money that is not necessarily required to be paid back to the employer. Many employers, though, include clauses in their tuition reimbursement agreements that require the employee to maintain employment with the company for a specific duration after attaining their degree or repaying the tuition reimbursement.
Grants in Your Community
Many community organizations offer grants and scholarships to adult students going back to college. The difference between a grant and a scholarship is that a grant is based on financial need and a scholarship is awarded based on judged criteria, though financial need may be one of the criteria.
So, when you apply for a scholarship, you are competing with other applicants for a finite amount of money.
There are scholarships that are open for anyone to apply, but the majority of scholarships are specific. Scholarships can be found based on a variety of qualities, including:
Athletic ability
Gender
Race
National origins
Marital status
Age group
Chosen profession
Military status
Religion
Many colleges have scholarship programs, which are usually discussed in the college's course catalogue. If the course catalogue does not mention a scholarship program, ask the financial aid officer during your meeting. The college may simply have chosen not to publish the information for the scholarship.
Some employers also have scholarship programs. Though, restrictions may apply, such as a minimum length of employment requirement before receiving scholarship monies. The Human Resources Department would usually have information pertaining to employer scholarship programs.
Professional organizations provide grants and scholarships to adults who wish to earn a degree in that career field. These organizations may specify which type of school the student can attend and how many credit hours the student must be enrolled in order to be eligible to receive the award. These organizations are also good networking avenues after graduation to find a position in the career field.
Elks Lodge
Many social organizations that are active in the community also have grants and scholarships to offer to students. The Protective and Benevolent Order of the Elk (Elks Lodge) has a scholarship program, and you do not need to be a member to apply. Calling your local Knights of Columbus, Moose Lodge, and other similar organizations may prove beneficial for adult students.
Exhaust All Grant Opportunities
Thanks to technological advances, the search for grants for adult college students has been made much easier than in the past. The Internet is a great tool in the search for grant monies for adult students. Using a search engine and keywords, adults can find many more opportunities for grants and scholarships that could apply to their circumstances and life. Plus, many applications for grants are available online.
The registration staff at most colleges are accustomed with the grants available to 18-22 year old students fresh out of high school or undergraduate school. However, grants for adult students returning to school are becoming more common. Unfortunately, adults will need to be creative in their searches to find more than the most common.
Left-handers, psychics, vegetarians, and those who speak Klingon all have special talents or gifts that would provide them more money to attend college. Adult students returning to school will need to do a lot of research, but the hard work and determination could be worth thousands of dollars in grant money.
While there are many programs out there that provide grants and scholarships for adult college students, it is not a guarantee that the adult will receive enough money from all grant sources to cover all of his tuition costs 100%. The option still remains for taking a student loan, perhaps guaranteed or subsidized by the government, in order to finish paying for college. However, the more grants a student applies for, the less money that will need to be borrowed by the student.